Hallo zusammen,
Fiber to the Home (FTTH) ist auch in der Schweiz ein Thema. Im Juni 2009 wurde hat das EWB beschlossen, in Bern FTTH zu realisieren.
Bei FTTH wird eine oder mehrere Glasfasern direkt bis in die Wohnung geführt und von dort über einen Konverter im Haus verteilt. Es gibt sogar Dosen, welche optische Anschlüsse bieten.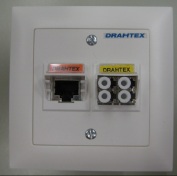 Aber wie funktioniert das nun wirklich? Eine gute übersicht bietet dieses PDF von Cablex.
Die folgende Abbildung habe ich in einem Prospekt von Swisscom gefunden.
Ich hoffe es geht bald los mit FTTH in Bern :o)
Grüsse
Andres Bohren