Page can't be displayed after AD FS service communications certificate change
Hallo zusammen,
Nachdem ich mein neues Zertifikat eingespielt hatte und im ADFS das Service Communication Zertifikat angepasst habe. Wurde das abgelaufene Zertifikat aus dem Zertifikatsstore gelöscht.

Von nun an konnte ich mich aber am ADFS nicht mehr anmelden. Also habe ich nochmals das Zertifikat geprüft.
Set-Location cert:
cd LocalMachine
cd my
ls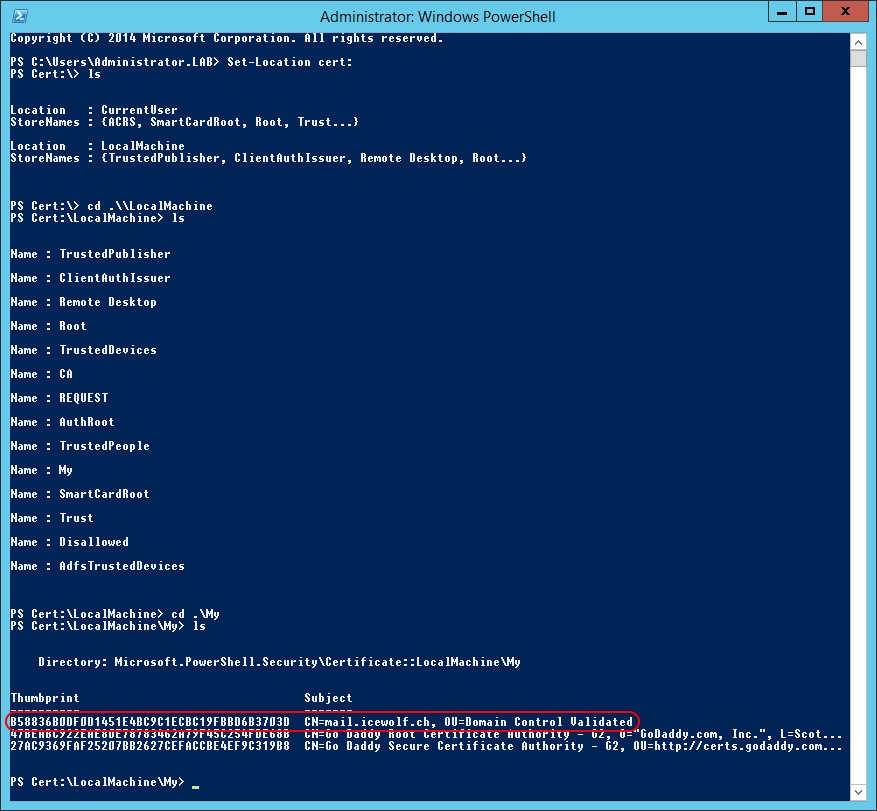 Auch habe ich den SAN geprüft. Da steht der richtige DNS Name drin "adfs.serveralive.ch". Ebenfalls war der Private Key zum Zertifikat vorhanden.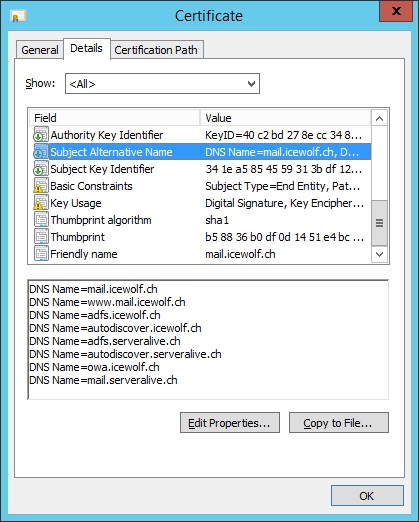 Als ich das Eventlog von "System" geprüft habe habe ich folgenden Eintrag gefunden:
EventId: 15021 Source: HttpEvent
An error occured while using SSL configuration for endpoint adfs.serveralive.ch:443. The error Status Code s containend within the returned data.
Geholfen hat mir dann folgende Anleitung 
Strange behavior AD FS Windows Server 2012 R2 after changing the service communications certificate
http://www.reinhard-online.nl/2014/10/strange-behavior-ad-fs-windows-server_88.html
netsh http show sslcert
Man beachte, dass der Certificate Hash nicht mit dem aktuellen Zertifikat zusammenpasst.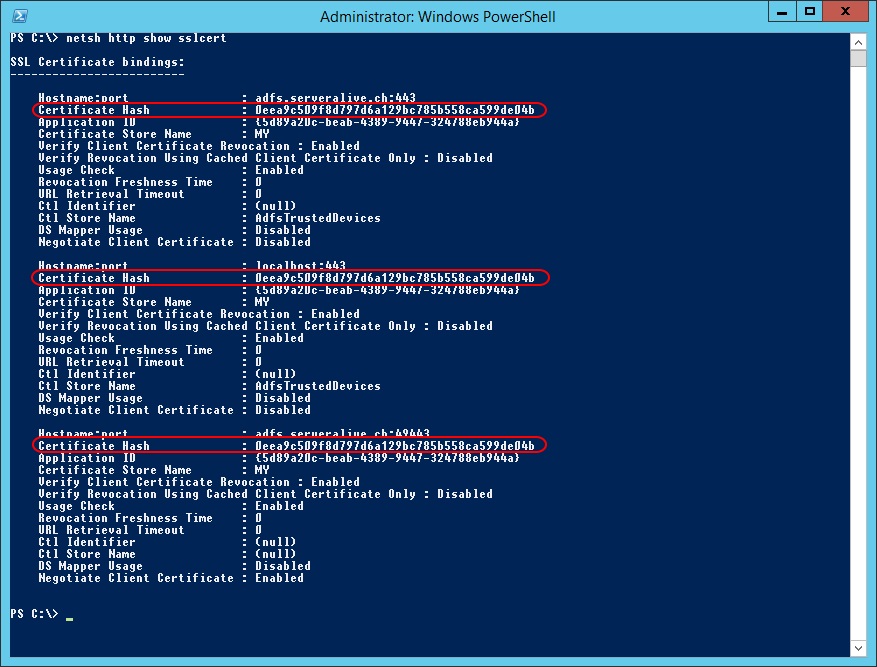 Also löschen der Einträge
netsh http delete sslcert hostnameport=adfs.serveralive.ch:443
netsh http delete sslcert hostnameport=localhost:443
netsh http delete sslcert hostnameport=adfs.serveralive.ch:49443
netsh http show sslcert

Dann die Einträge mit dem neuen Hash (Thumbprint) des aktuellen Zertifikats wieder erstellen
netsh
winhttp
add sslcert hostnameport=adfs.serveralive.ch:443 certhash=B58836B0DF0D1451E4BC9C1ECBC19FBBD6B3703D appid={5d89a20c-beab-4389-9447-324788eb944a} certstorename=MY sslctlstorename=AdfsTrustedDevices

add sslcert hostnameport=localhost:443 certhash=B58836B0DF0D1451E4BC9C1ECBC19FBBD6B3703D appid={5d89a20c-beab-4389-9447-324788eb944a} certstorename=MY sslctlstorename=AdfsTrustedDevices

add sslcert hostnameport=adfs.serveralive.ch:49443 certhash=B58836B0DF0D1451E4BC9C1ECBC19FBBD6B3703D appid={5d89a20c-beab-4389-9447-324788eb944a} certstorename=MY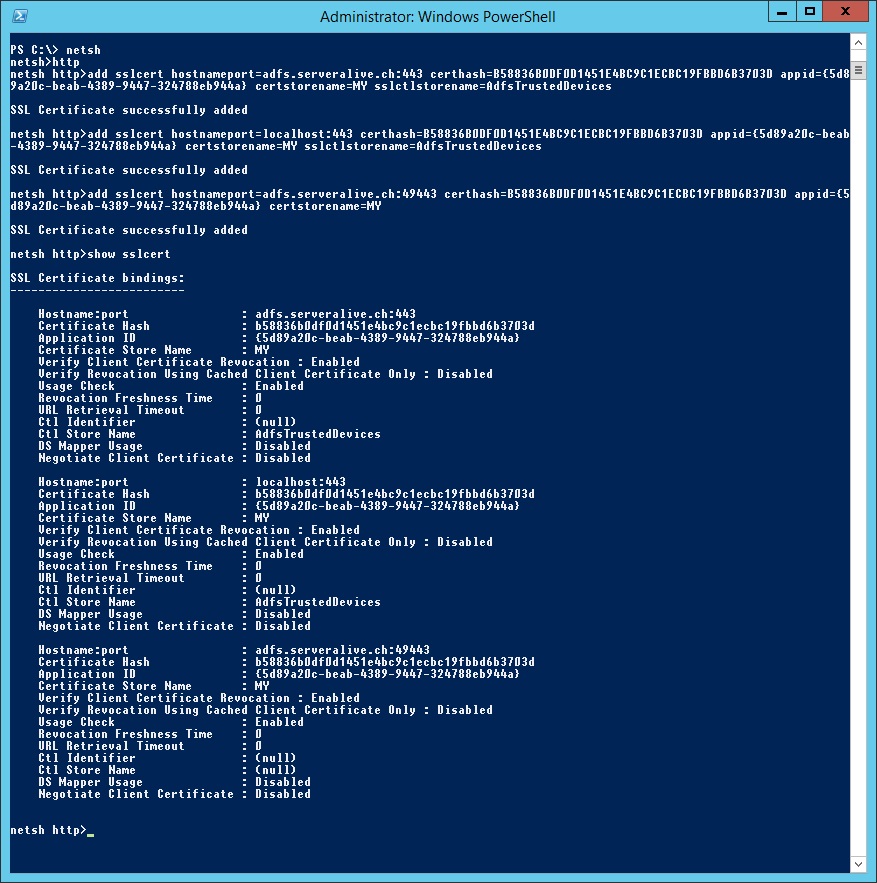 Dann habe ich den ADFS Service neu gestartet und siehe da:
EventId: 15301 Source: HttpEvent
SSL Certificate Settings created by an admin fprocess for endpoint: adfs.serveralive.ch:443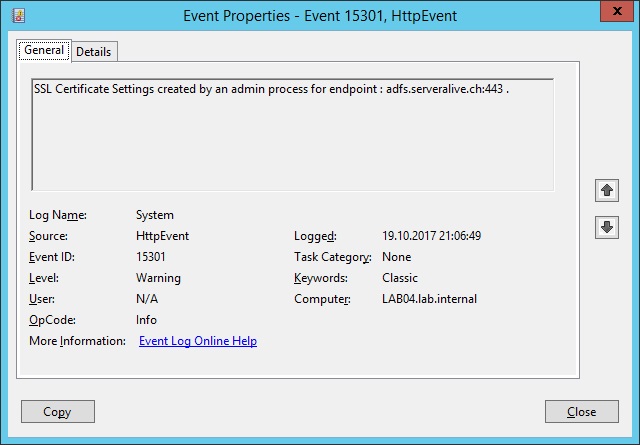 Von nun an klappt die Anmeldung am ADFS wieder :)
Grüsse
Andres Bohren