AD FS Extranet Lockout and Extranet Smart Lockout
Hallo zusammen,
Kürzlich war mein Account mehrfach "Locked Out" im Active Directory. Tja selber schuld... Ich habe einen ADFS Server (Windows Server 2016) aber die Konfiguration für Smart Lockout nicht gemacht. Nachfolgend wie das geht.
AD FS Extranet Lockout and Extranet Smart Lockout
https://docs.microsoft.com/en-us/windows-server/identity/ad-fs/operations/configure-ad-fs-extranet-smart-lockout-protection
Wie im Artikel beschrieben habe ich folgen Befehl abgesetzt
$cred = Get-Credential
Update-AdfsArtifactDatabasePermission -Credential $cred

Nun schauen wir uns mal die Settings an
Get-AdfsProperties | fl *extra*

Mit dem nachfolgenden Befehl könnte man erst mal ein bisschen loggen ohne das Lockout Feature schon zu aktivieren.
Set-AdfsProperties -ExtranetLockoutMode AdfsSmartlockoutLogOnly
Aber ich schalte es gleich von Anfang an scharf
Set-AdfsProperties -EnableExtranetLockout $true -ExtranetLockoutThreshold 15 -ExtranetLockoutRequirePDC $false -ExtranetLockoutMode AdfsSmartLockoutEnforce
Restart-Service adfssrv

Nun schauen wir uns die Settings an
Get-AdfsProperties | fl *extra*

Ich habe dann festgestellt, dass es sehr viele Errors im Eventlog unter "Applications an Services Logs\AD FS\Admin" auftauchen.
Unter anderem dieser hier:
Source: AD FS
Event ID: 352
Also schauen wir uns mal die Connection zur DB an.
Get-AdfsProperties | fl art*

Nun wollte ich mal sehen was mit den Datenbanken los ist. Dazu habe ich SQL Operation Studio benutzt. Mehr darüber habe ich im folgenden Blog geschrieben
SQL Operations Studio
http://blog.icewolf.ch/archive/2018/02/07/sql-operations-studio-preview.aspx
Verbinden auf die ArtifactDbConnection
\\.\pipe\microsoft##wid\tsql\query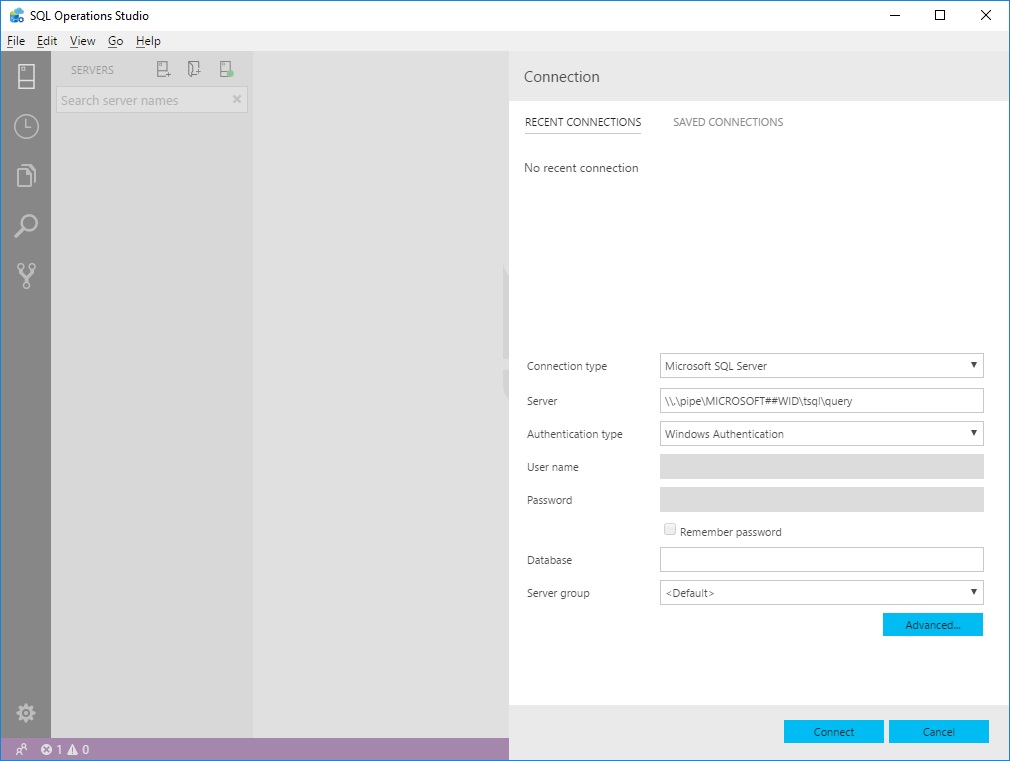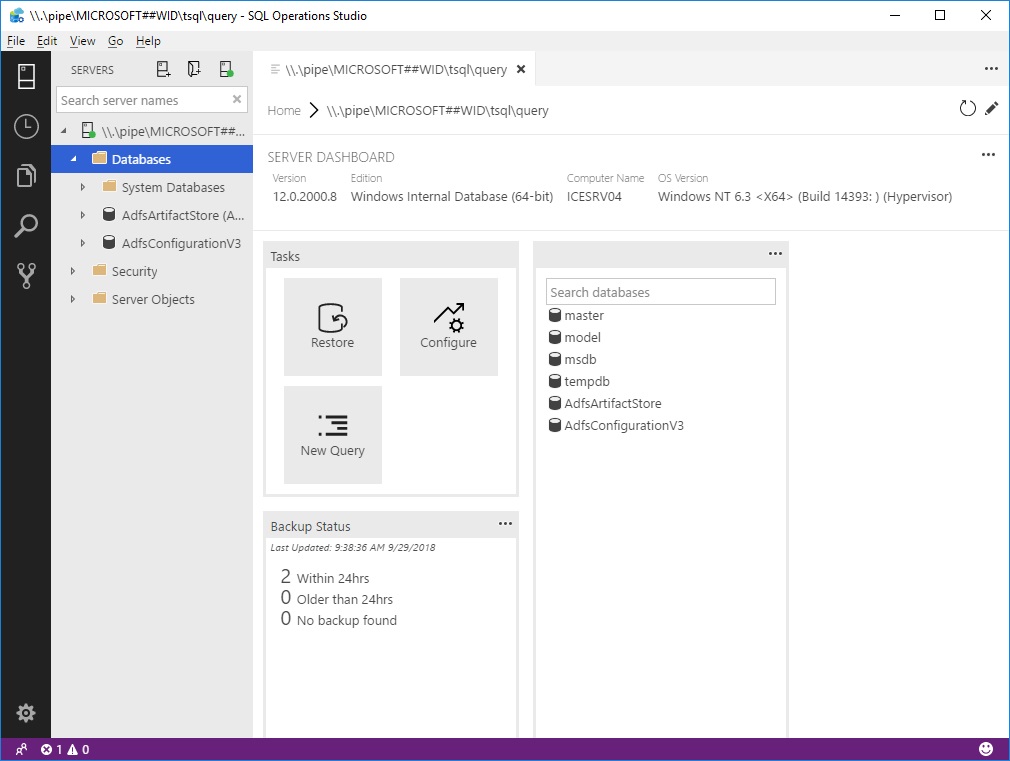 In der DB AdfsArtifactStore habe ich dann folgenden Befehl abgesetzt
 sp_addrolemember 'db_owner', 'db_genevaservice'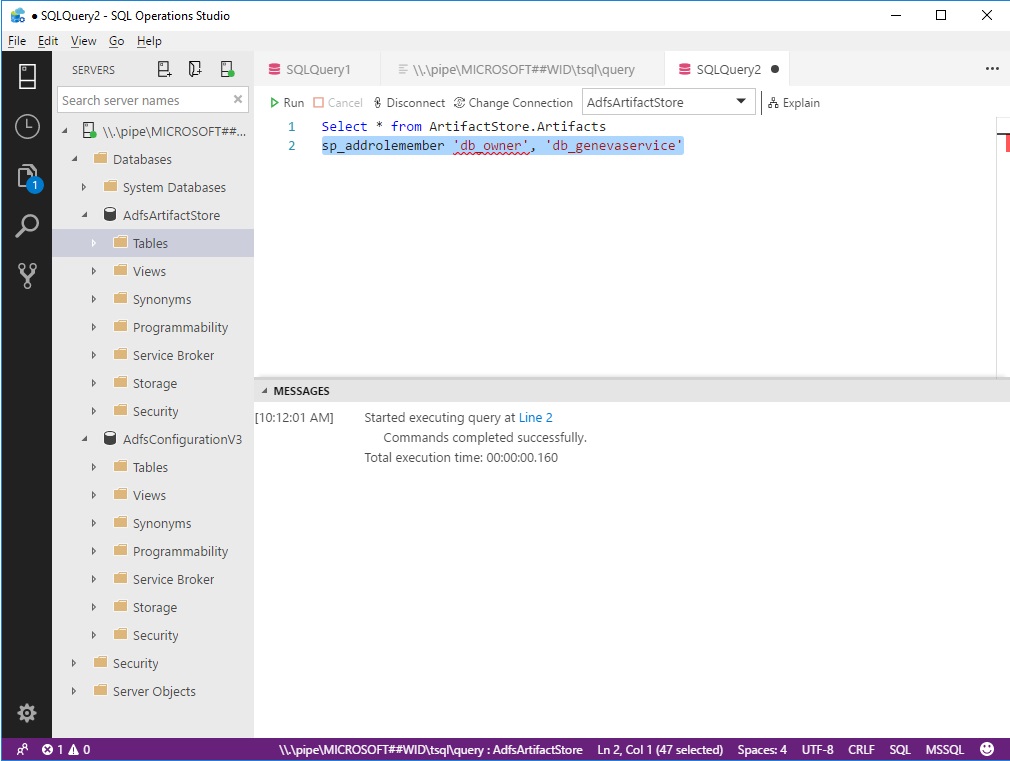 Danach habe ich den ADFS Server vorsichtshalber nochmals durchgestartet. Danach waren die Fehler dann verschwunden.
Grüsse
Andres Bohren