Exchange Online PowerShell v2 is GA
Hallo zusammen,
Vor ein paar Tagen wurde das Exchange PowerShell v2 Modle für Generally Available (GA) erklärt.
Announcing General Availability of the Exchange Online PowerShell v2 Cmdlets
https://techcommunity.microsoft.com/t5/exchange-team-blog/announcing-general-availability-of-the-exchange-online/ba-p/1436623
Ich benutze das Exchange Online V2 PowerShell Modul schon länger. Und bei grossen Abfragen ist es wirklich schneller. Aber noch mehr mag ich das Reconnect Feature. Wenn eine Session abgelaufen ist, verbindet sich die PowerShell selbst wieder mit dem Exchange Server. Das hat mir einige nervige Logins erspart.
Module kann man nur als Admin aktualisieren und das Modul sollte im besten Fall nicht geladen sein.
Am besten man startet ein "cmd" als Administrator und ruft dann folgendes auf
start PowerShell -noprofile

Nun kann man das Exchange Online PowerShell Modul installieren oder aktualisieren
Get-Module ExchangeOnlineManagement -ListAvailable
Install-Module ExchangeOnlineManagement
Update-Module ExchangeOnlineManagement

Mit den folgenden Befehlen wird das Modul geladen und die Verbindung zum M365 Tenant hergestellt.
Import-Module ExchangeOnlineManagement
Connect-ExchangeOnline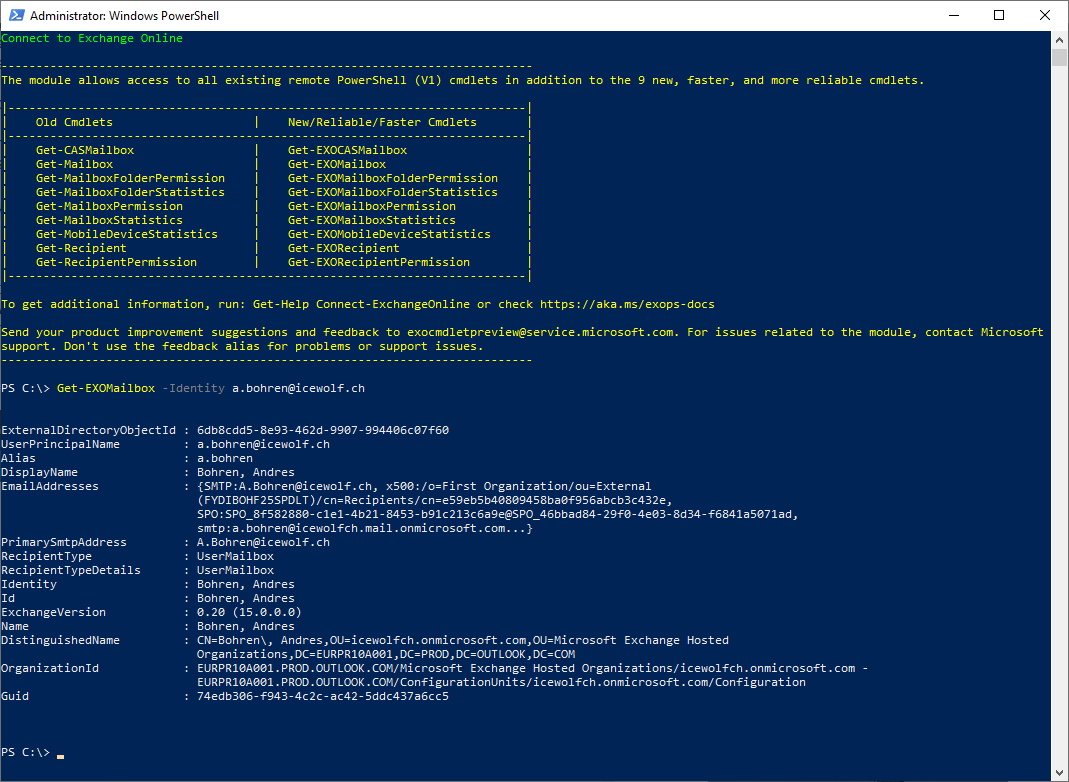 Grüsse
Andres Bohren