Set Location for Weatherforcast in Outlook for Windows and Outlook on the web
Hallo zusammen,
Kürzlich kam in einer Diskussion auf, ob man nicht den Wetterbericht in Outlook auf einen vorgegebenen Ort setzen kann. Ich habe das mal nachgelesen und folgendes dabei gefunden. 
Extending the Weather Bar in Outlook
https://docs.microsoft.com/en-us/office/client-developer/outlook/weather/extending-the-weather-bar-in-outlook
Standardmässig wird ja der Wetterbericht im Kalender angezeigt - was ja durchaus Sinnvoll ist, wenn man einen Termin plant.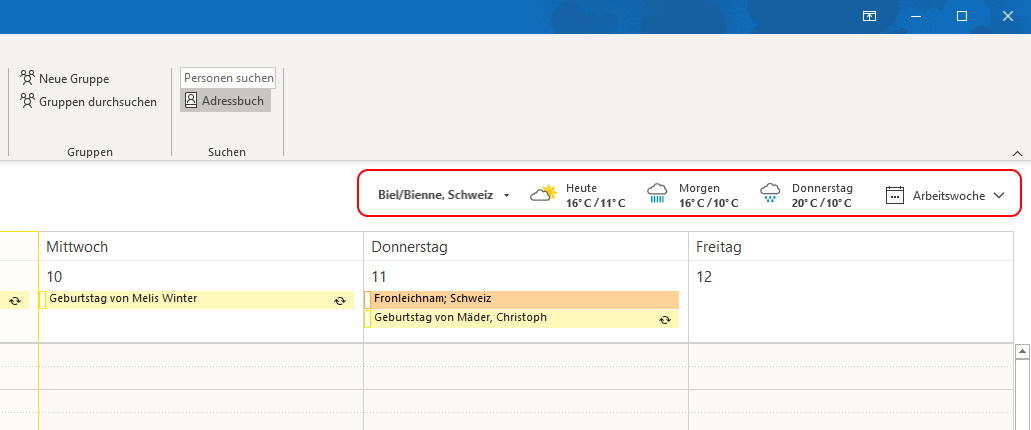 Im Outlook kann man einfach auf den Ort klicken und dann im Menü "Ort hinzufügen" auswählen.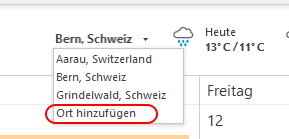 In den Outlook Optionen oder in der GPO gibt es jedoch keine Möglichkeit den Ort mitzugeben.
Also, wo ist diese Information gespeichert? Die Antwort ist - in einem XML File im Profil
C:\Users\<Username>\AppData\Local\Microsoft\Outlook\RoamCache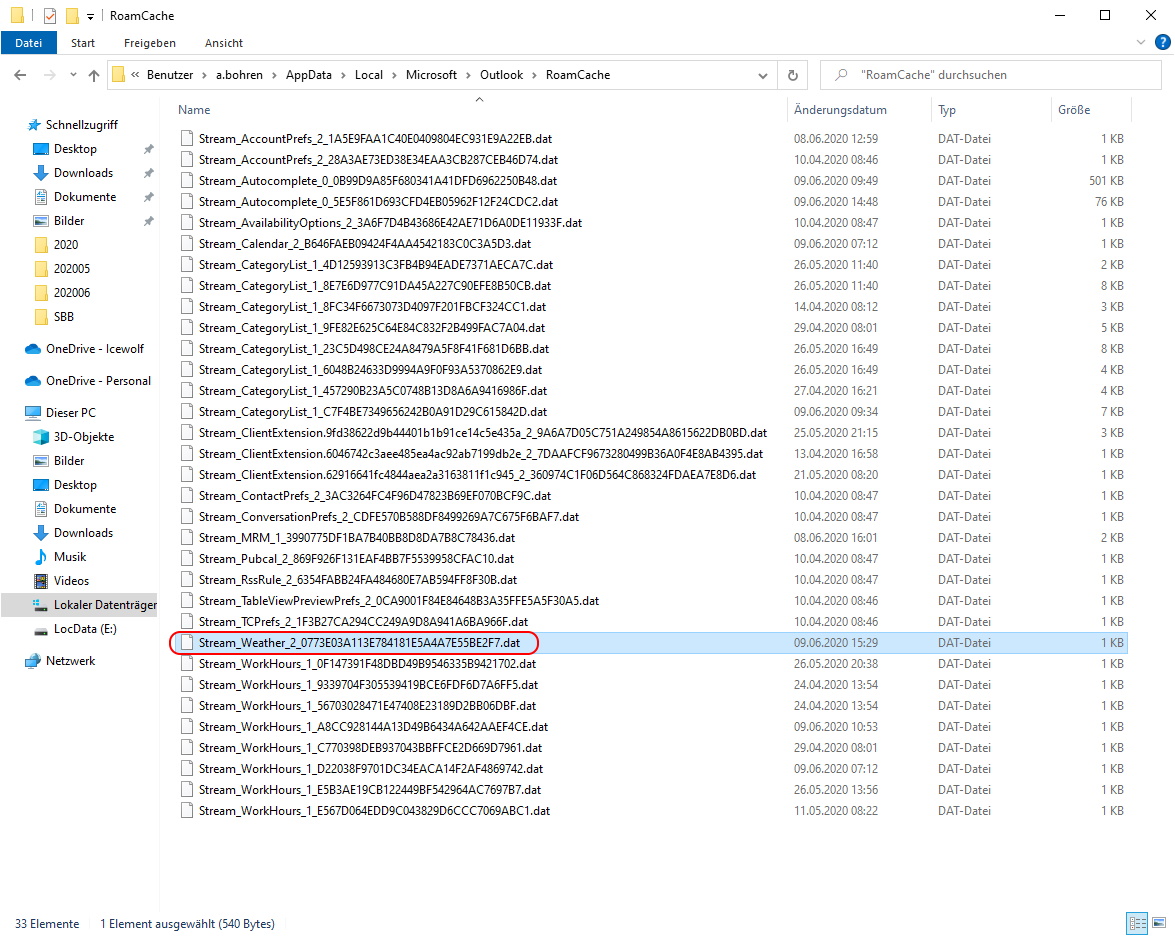 Wenn man sich die XML Datei anschaut, ist die ganz einfach aufgebaut. Die Schwierigkeit liegt darin, diese SZ Nummern herauszufinden. Mit SelectedLocation legt man die Default Location fest.
<?xml version="1.0"?>
<UserConfiguration>
 <Info version="Outlook.16"/>
 <Data>
  <e k="18-DegreeType" v="9-0"/>
  <e k="18-Disabled" v="9-0"/>
  <e k="18-Location1" v="18-wc:SZXX0001,Aarau, Switzerland"/>
  <e k="18-Location3" v="18-wc:SZXX0006,Bern, Schweiz"/>
  <e k="18-Location4" v="18-wc:SZXX0007,Biel, Switzerland"/>
  <e k="18-Location4" v="18-wc:SZXX0043,Grindelwald, Schweiz"/>
  <e k="18-SelectedLocation" v="18-wc:SZXX0006"/>
  <e k="18-OLPrefsVersion" v="9-1"/>
 </Data>
</UserConfiguration>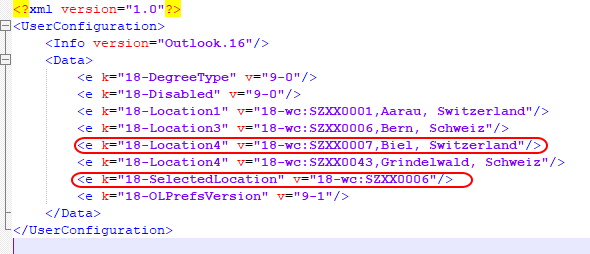 Mit folgender URL kann man nach einem Ort suchen. Einfach beim Parameter weasearchstr=ORT-Kanton (Bundesland/Bundestat) eingeben. Dann den Code rauskopieren und im XML anpassen. Oder gleich übers GUI machen.
http://weather.service.msn.com/data.aspx?weasearchstr=Biel-BE&weadegreetype=c&src=outlook

Möchte man das Wetter gar nicht angezeigt haben, so kann man das per Registry Key deaktivieren. Das kann man auch in den Outlook Optionen oder über GPO machen.
HKEY_CURRENT_USER\SOFTWARE\Microsoft\Office\16.0\Outlook\Options\Calendar
"DisableWeather"=dword:00000001

Nach dem Neustart von Outlook wird kein Wetterbericht mehr angezeigt.
Outlook on the Web
Leider funktioniert es im Outlook on the Web anders. Hier können die Settings ebenfalls definiert werden, sind aber komplett getrennte Einstellungen von denen im Outlook.
In den Einstellungen können bis zu fünf Orte hinterlegt werden.

Das kann man auch per PowerShell abfragen
Get-MailboxCalendarConfiguration -Identity a.bohren@icewolf.ch | fl weather*

Und setzen geht folgendermassen:
Set-MailboxCalendarConfiguration
https://docs.microsoft.com/en-us/powershell/module/exchange/set-mailboxcalendarconfiguration?view=exchange-ps
Die Längen und Breitengrade habe ich mithilfe folgender Adresse rausgesucht https://www.laengengrad-breitengrad.de/adresse-zu-laengengrad-breitengrad-gps-koordinaten
Der Einfachheithalber habe ich für die LocationID einfach die Postleitzahl genommen.
LocationId:<LocationID>;Name:<Name>;Latitude:<Latitude>;Longitude:<Longitude>
Set-MailboxCalendarConfiguration -Identity a.bohren@icewolf.ch -WeatherEnabled Enabled -WeatherUnit "Celsius" -WeatherLocations "2500;Name:Thun,BE;Latidude:47.140187;Longitude:7.243773","8400;Name:Winterthur,ZH;Latidude:47.499950;Longitude8.737565"

So nun sind die zwei Orte erfasst.

Im OWA kann man dann auf das Symbol klicken und mit den Pfeilen zwischen den Orten umschalten.

Grüsse
Andres Bohren