Intune Organizational Message is GA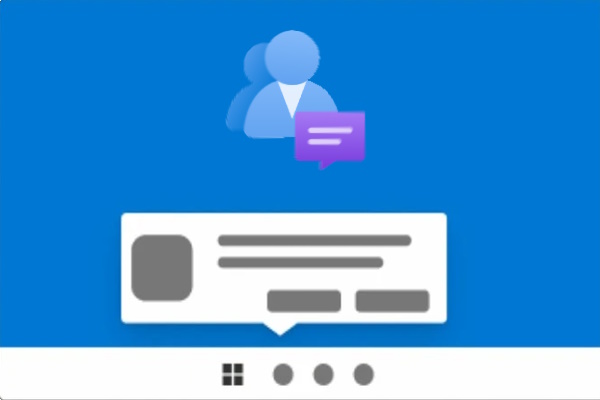 Hi All,
Intune Organizational Messages where already announced in October 2023.
End of May 2023 Microsoft announced the Organizational Messages to be Generally Available
Organizational messages for Windows 11 now generally available Use organizational messages to deliver branded, personalized call-to-actions to employees. Select from more than 25 messages that support employees through device onboarding and lifecycle management, in 15 different languages. Messages can be assigned to Azure AD user groups, and delivered just above the taskbar, in the notifications area, or in the Get started app on devices running Windows 11. Messages continue to appear or reappear based on the frequency you configure in Intune, and until the user has visited the customized URL.
Other features and functionality added in this release include:
Confirm licensing requirements prior to first message.
Choose from eight new themes for taskbar messages.
Give messages a custom name.
Add scope groups and scope tags.
Edit the details of a scheduled message.
Scope tags were previously unavailable for organizational messages. With the addition of scope tag support, Intune will add the default scope tag to every message created before June 2023. Admins that want access to those messages must be associated with a role that has the same tag. For more information about available features and how to set up organizational messages, see Overview of organizational messages
Also announced here Reach users more effectively: organizational messages in Windows
Prerequisits
The organizational message feature is included with the following licenses:
Microsoft 365 E3
Microsoft 365 E5
Windows 10/11 Enterprise E3 with Microsoft Intune Plan 1
Windows 10/11 Enterprise E5 with Microsoft Intune Plan 1
sizes of logos for your organization in PNG format with a transparent background:
48 x 48 pixels (for messages in the Notifications area)
64 x 64 pixels (for messages attached to the Taskbar)
50 x 50 pixels or 50 x 100 pixels (for Get Started app messages)
You need to configure the Organizational messages prerequisites
To allow taskbar messages:
Add Allow Windows Spotlight (User): Switch the toggle to Allow.
Add Allow Windows Tips: Switch the toggle to Allow.
To allow notification area messages:
Add Allow Windows Spotlight (User): Switch the toggle to Allow.
Add Allow Windows Spotlight on Action Center (User): Switch the toggle to Allow.
To allow Get Started app messages:
Add Allow Windows Spotlight (User): Switch the toggle to Allow.
Add Disable Cloud Optimized Content: Switch the toggle to Disabled.
Ogranizational Message
Intune Admin Center > Tenant administration > Organizational Message
You need to confirm you have the appropriate Licenses
Taskbar messages (Message themes)
Mandatory update
Security update
Important action
Important information
Key meeting
Latest video
Leadership updates
Team updates
Planned outage
Notification area messages (Message themes)
Organizational HR training
Organizational skills training
Organizational training
Organizational update
Update browser
Update device
Get Started app messages
Let's create a Taskbar Message with the Important Information Theme
Add a Message Name, a file and a Link
Shedule the Message. Needs to be 1 day bevore the start and minimum is one week
Add the Group with the Users
Review Screen
Takes a few seconds until the Message has been created
Result
The next day the Message showed up. If you click on the "Review" Button the Browser opens with the configured URL.
Regards
Andres Bohren